A picture is worth a thousand words. There are many occasions when you really want someone to see your computer screen rather than telling them the details. For instance, you might have a problem with a software and your friend knows how to fix it. It is a lot easier if he could see and control your computer (screen, mouse and keyboard) instead of telling you each step and you having to tell him what has happened each time.
Teamviewer is a free tool that can be used to share desktops easily. It's simplicity lies in the fact that it just takes a few clicks to share your desktop over the Internet to someone else without having to pass on any ip address information or configuring a virtual server.
How to share desktop using Teamviewer
1. First download Teamviewer.
2. Start the Teamviewer setup. It will give you two options.You can either install it on your computer or you can run it as a standalone program - meaning no installation.
3. Once Teamviewer has started, it will give you a uniq id and password on the left side.
4. To give access of your desktop to someone else, you need to give this id and password to him. He need to starts teamviewer on his computer and connect by entering your id in the Partner ID field. Teamviewer will ask for the password and on entering the password you gave him, your desktop will show up in a new window on his computer.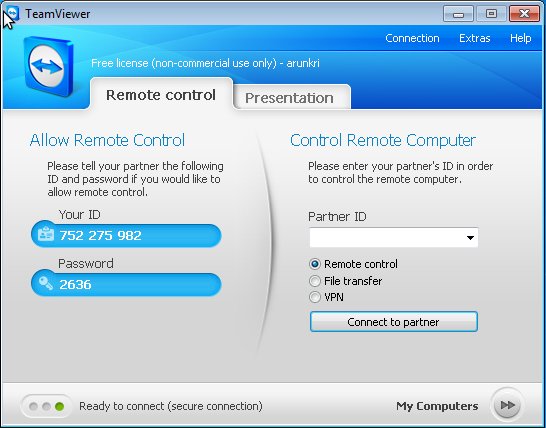 You can also use Teamviewer to transfer files to and from a remote computers directly. The screen rendering of Teamviewer is pretty good and you can use it for online demos or presentations as well.
You also have the option to bookmark connections into a partner list. Whenever you open Teamviewer, it will show you which all partners are available and you can connect to any available one with a single click. Please note that this option requires you to register and create an account with Teamviewer.
Advantages of Teamviewer
1. Most other tools like vnc requires the ip address to connect - which is easy if you are in a private network, but not through the internet.
2. Simple to use and can run standalone, so you need not install on your computer.
3. Available many platforms like Windows, Linux, Mac and even mobile - both android and iPhones.
Please let let me know your opinions as comments after trying out.