Most mail services like Gmail, Yahoo or Hotmail requires a working Internet connection. If you want access to your mails offline, you had to take a backup of your emails or use a desktop email client like Outlook or Thunderbird.
Offline Gmail access
Now you can access Gmail, Google docs or Google Calendar offline using the HTML5 based Offline Google Mail app available for Google's Chrome browser.
After adding the chrome app, you will see a "Offline Google Mail" app icon on opening a new tab.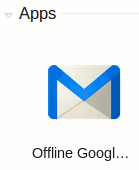 Appearance
Originally designed as an app for Tablets, it has a vertical split layout with a preview pane on the right.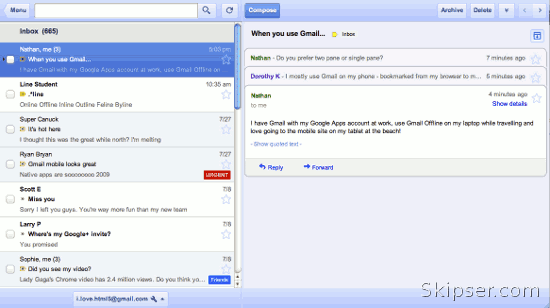 The app has Google's good old threaded message view and reading mails feels just the same as earlier. It updates almost real-time in the background while you're working online.
If you go offline, you can still read, send, organise, or reply to email as usual. The app stores all your actions locally inside chrome's storage on the computer and once you are online, the stored data is used to synchronise each action with your Gmail account on Google's server.
So every email you had composed and send button clicked while offline will be sent once you are on-line.
There is also a status bar to alert you when ever you are offline as well.

Apart from offline reading, one cool thing about the app is that the preview pane is much bigger and doesn't show ads although Google may add it later on. Gmail when read directly with a browser has a smaller preview pane with an ad section on it's side.
Future
Google has said the offline versions of it's Calender and Docs will be availabe starting next week. Offline calender will allow users to view or create events and RSVP to appointments. With offline Google docs, you will be able to view documents and spreadsheets although offline editing will be a feature yet to come.
Support to customize the amount of email to be synchronized will also be coming in the future and so are similar apps for other browsers.
Make sure you follow us in facebook, twitter or subscribe to the email newsletter, so you don't miss the updates.
The app sure seems very lurcative to drive users from other browsers to Chrome. But with all the competition, extensions for other browsers like Internet explorer and Firefox are sure to pop up soon.