There can be a lot of reasons whey you want to share your Inbox with someone but not your password. For instance, let's say you want your assistant to fix an appointment and send some mail or you want to give a friend or your wife access to your email. In a lot of such cases, you wouldn't want to give away your password. Not that you don't trust the person, but just that you are not that comfortable.
Delegating your Gmail inbox.
With Gmail you can share your inbox for viewing and sending emails with other Gmail accounts. To do this is very simple. From your Gmail page, go to Settings->Accounts and Import.Now go to "Grant access to your account" section and click on the "Add another account" link.

In the popup window that comes up, add the email id (should be Gmail) of the person whom you want to delegate your inbox to and click "Next step" and then on the "Send email to grand access" button.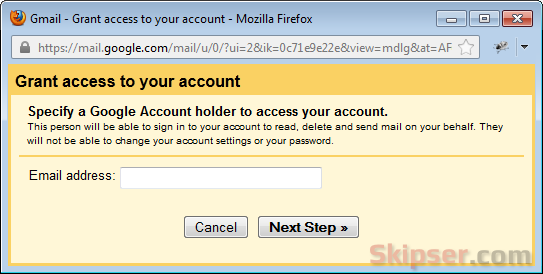 A confirmation email will now be sent to the person you added. Once he confirms by clicking on the link sent in the email, he will be able to read and send emails on your behalf.
Accessing a delegated Gmail inbox.
To access your inbox, the delegated person need to click on his profile photo on top right of his Gmail page and he will see two accounts in the drop down. One will be his own account which will be active and the other will be your Gmail id which he can switch to.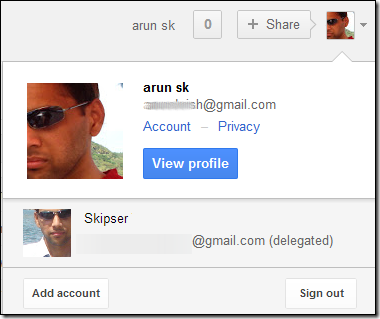 Once he clicks on the delegated Gmail id, your Inbox will load in a new tab or window. Delegated emails in Gmail will only have limited access. That means the person will be able to read and send emails on your behalf, but won't be able to change any settings of your Inbox or Google account including password. Also, for any email that he sends, the "From" section of the email header will read something like this-
jack@gmail.com (sent by jill@gmail.com)
The "sent by" in the header is enough for anybody to make out that the email was sent on Jack's behalf by Jill.
Removing or revoking delegates.
All the accounts you have given access to will be visible in your settings. You can revoke access to the delegates any time you want by clicking on the delete option against each delegate.
Delegating email is a pretty cool and useful tool to let other access your email securely. But even though you can revoke any delegations, you can never revoke or recall a sent mail. So please be careful while delegating your Gmail to others. Finally here's a video on delegating gmail if you want visual details-