So you found that one app which you think is so cool and useful, you want to share it with your friends. You could send them an email or write a social post so your friends can search and install it from the play store on their android phones... tedious isn't it? The good news is it is extremely simple in Google+. You can share an app on Google+ and all your friends can install it to their android phone with a single click.
If you have used an android phone for long enough, you might have already noticed that you can install apps on your android phone directly from the Google play store web site. That means you can browse for apps on the play store in your computer, click the install button for any app you want and it will automatically get downloaded and installed on your android phone. Google has integrated this feature into Google+ as well. Let's see it in action.
First go to the app page on the play store and copy the URL from the address bar of your browser. Now share it with your Google+ friends by sharing the URL. Once you enter the play store app URL, you will find that the post that Google creates will automatically have an install button in it (or a buy button if it is a paid app).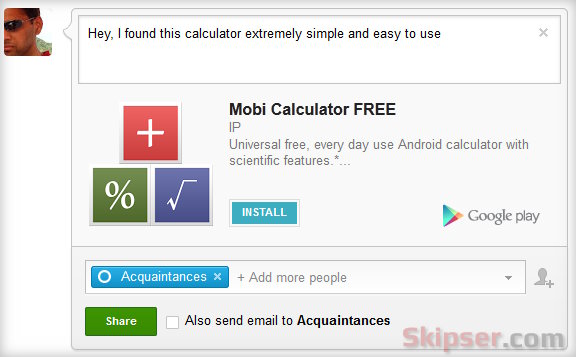 And when your friend clicks on the "Install" button, he would be directly taken to the Google app store page where the app install confirmation dialog will load automatically. And once he confirms, the app will get downloaded and installed to his phone automatically assuming that his phone is connected to the internet.
Compared to manually searching and installing apps whose name your friend has shared, the play store - Google+ integration is sure to save you some mouse clicks. But I would strongly suggest to read the reviews and ratings of apps before installing if you have not heard of it before or are not too sure

. And finally, here's a video that shows it in action.