Thunderbird is one of the best and most robust fee email clients out there. For deleting emails, Thunderbird gives you two ways
Press Delete - moves the email to the Thrash folder
Press Shift+Delete - Permanently deletes the email.
Most of the time you get into the habit of deleting mails using "Shift+Delete" only as moving to Trash and clearing it later is just double work. And with this habit comes a side effect too - once in a while, important emails get deleted accidentally and you can't restore them back!!!
Get a confirm before delete dialog.
The solution is easy and simple - to have a confirmation dialog popup every time you use Shift+Delete.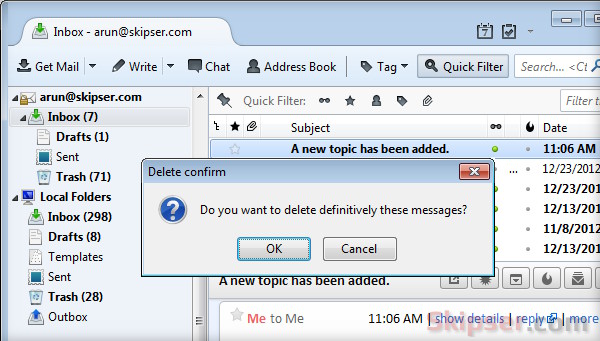 Although this means one extra click or key stroke for deleting each mail, it is actually a safety net so you will never have to regret. And unfortunately, Thunderbird doesn't have such an option inbuilt.
"Confirm Before Delete" is an addon that adds this functionality to Thunderbird. There are a variety of actions you can choose to ask a confirmation for. This includes deleting email, folders, contacts, moving to trash etc.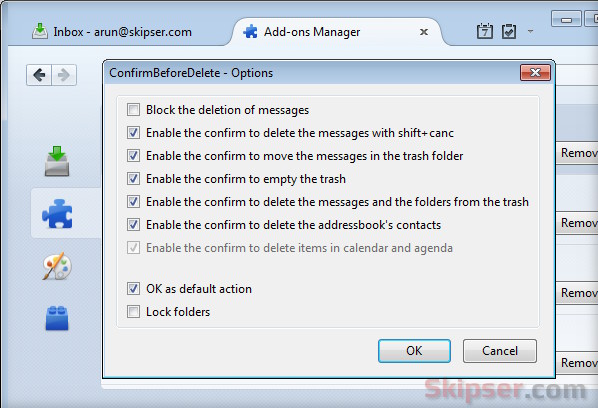 You can download the "Confirm Before Delete" extension using the link below. If you are new to Thundebird and are not sure how to install an addon, please read this guide.