Addons or extensions are plugins for Mozilla Thunderbird which add extra functionality not available by default. Thunderbird addons come as a file with the extension ".xpi". So installing a Thunderbird addon involves downloading the addon file and adding it to Thunderbird.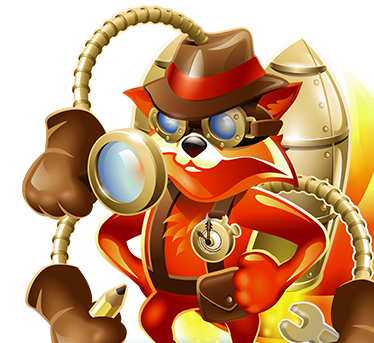 There are two ways addon/extension developers host addons on the internet.
Directly host the addon file on a personal website or blog.
Host the addon in Thunderbird's official addon site - https://addons.mozilla.org/en-US/thunderbird/
Installing addons from the official addon site is generally considered more safe as they are validated and monitored by the Mozilla team. Extensions from the official site can either be installed directly from Thunderbird or after downloading to your local disk. But the addons from other websites or blogs can only be installed after downloading it locally.
Installing an extension directly from Thunderbird.
Follow these simple steps to install an extension or addon directly from within Thunderbird.
1. From the tools menu, select "Add-ons".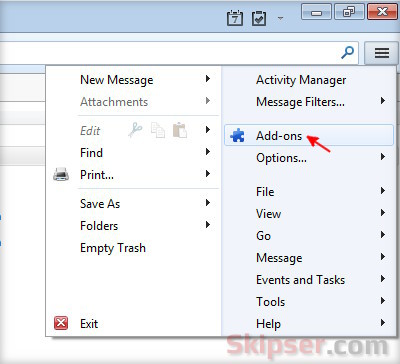 2. The addon manager tab will open up with a search bar at the top right. Type in the name of the extension you want to install and press enter.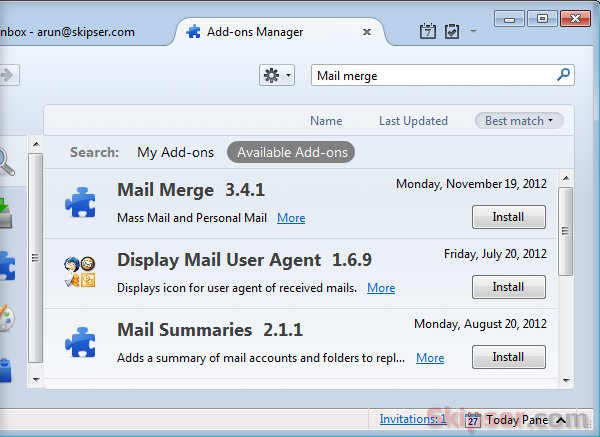 3. In 99% of the case, you will find the extension on the list. You can use the "Install" button for the addon to install it.
4. If you don't find the addon in this list, look for a "See all results" link at the bottom of the list and click on it. Thunderbird will now open a new tab and load the official plugin site in it. You can search and find the plugin you want from here. Once you find the plugin just hover the mouse over it and click on the "Add to Thunderbird" button.In the confirmation window that comes up, click on the "Install Now" button to install the plugin.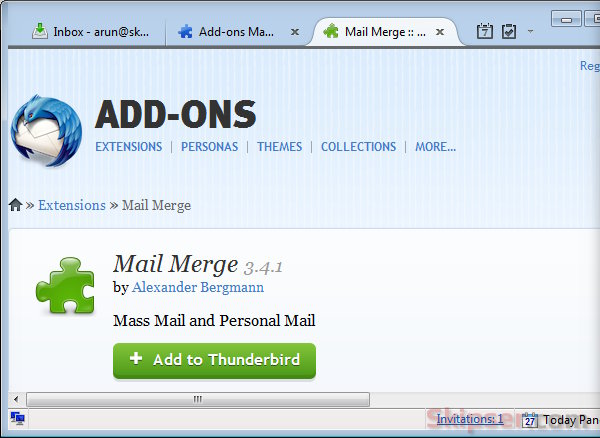 Installing extensions from other websites.
To install extensions hosted on ay other website or blog, first download the extension which will come as a ".xpi" file to your computer.
From Thunderbird tools menu, click on "Add-ons" which will open up the Add-ons manager tab. Click on the tools icon, click on "Install Add-on from file" option and select the addon .xpi file you just downloaded.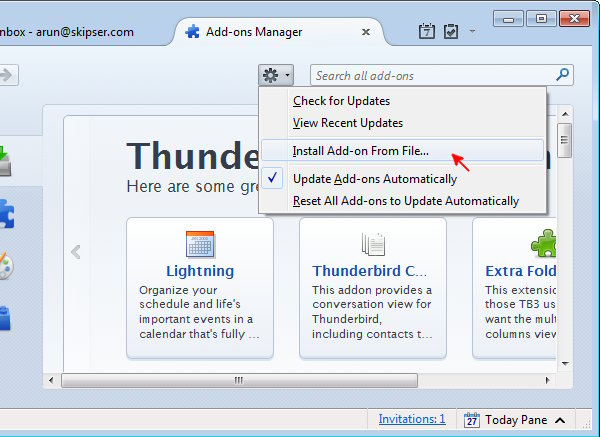 Select "Install Now" in the confirmation window that comes up and the addon will be installed into Thunderbird.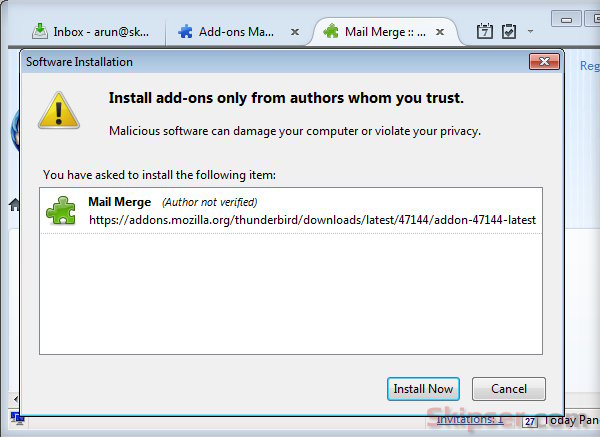 For most addons, Thunderbird will ask for a restart. If you don't restart, the plugins won't work as expected and could lead to problems later. So better do that before starting to use the plugin.