QR code is a great idea to share text, links or any other information as a small image. The most common way to read QR codes is using a mobile.Free QR reader apps are available for all smartphones including android and iPhone.
But many a times, you really don't want to walk to the other room, just to pick up your mobile for reading a QR code you found on your favourite blog.
If you use Chrome browser, you can use this nice little extension QReader to easily decode and read QR code on web sites with a single mouse click. Just right click on any QR code image and click on "Read QR code from image".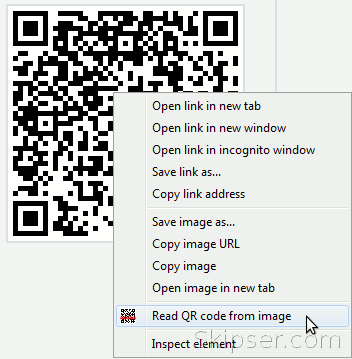 If the QR code contains a URL, it will open the URL directly. Otherwise, it shows a popup window having all the data encoded in the QR code.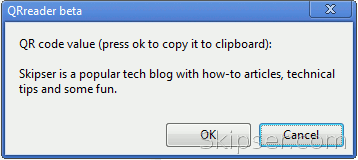 You can easily copy content to the clipboard by clicking on OK button as well. So what are you waiting for? Install the extension and try out this QR code which is a URL to the FUNNY VIDEOS section in Skipser Facebook page.
Ok, but I don't use Chrome..
If you use other browsers like Firefox or Internet Explorer, you can easily read QR code using a free online service from ZXing. Just copy the QR code image URL, go to ZXing, paste the URL and click "Submit Query". All the qr code information will be displayed including raw bytes, type of data and the full text data.
I will be updating on similar extensions for other browsers immediately when they are available. Do make sure to follow me on Facebook, Twitter, Google+ or the Skipser feed so you don't miss anything.