Google+ has seen lots of steam since it's release reaching 50 Million users in just 88 days. One of the most widely used features of Google+ is photo sharing. To view a shared photo or image in a larger size, you just click on the image and a bigger version is displayed.
But the bigger version is not the actual size of the photo as it was uploaded. Its another cut-down version which fits your screen. Google+ today (27 Sept 2011) released a new feature where in you can download the original of shared photos if the owner permits.
How to download
To do this, just click on the image to get a bigger version and on the bottom right portion of the image, you will find a drop down menu called "Actions". Click on it to get the "Download Photo" option as below.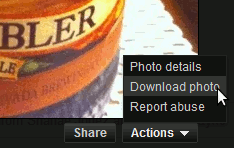 The download option has been enabled by default for everyone, so all your shared photos are now available for full size original version download.
What if I don't want to allow downloads.
Suppose you don't want to let any body download the original of your shared photos. You can easily configure Google+ to disable this feature. Click on the gear icon on the top right, go to "Google+ settings" and scroll down to the "Photos" section. Just un-tick the "Allow viewers to download my photos" and no body will get the "Download Photo" option on any photo you share.

Conclusion
With this download option, you can now share full size wallpapers with any body on Google+ allowing them to download the full version without having to keep a separate download link. A very nice and useful feature indeed. The next thing on my wish list would be - setting download option only for selected photo's.
Considering the rate at which Google+ has been adding new features, this should also not be too far. Please let me know your opinions as comments below.