The metro UI is a convenient interface to access all your apps in Windows 8. But as the number of apps on your metro screen goes higher, you might find it a bit cluttered and would want to remove some of those not-so-used ones.
There are two ways to remove unused apps from the metro screen.
Unpin apps - This only removes the app icon from the metro screen.
Uninstall apps - This removes the app completely by uninstalling it.
Lets see how to do both.
First right click on the app's icon you want to remove on the metro screen. For touch screen users, just touch and swipe the app icon a little bit. A bar will now appear on the bottom of your screen with three options.
Uninstall the app.
Unpin the app.
Make the app icon smaller/bigger.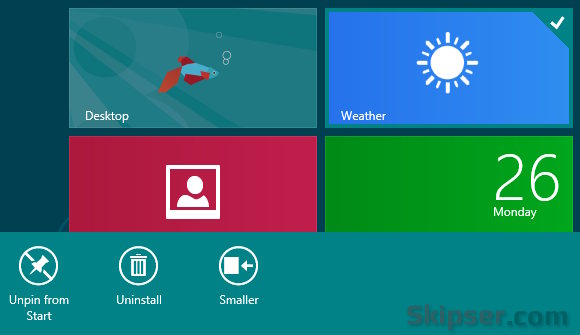 You can choose the buttons to uninstall or unpin the app as required.
Also see:
How to install metro apps.
Run apps in split screen alongside your desktop.