The new Metro UI Start Screen is an off-the-road feature in Windows 8. All previous windows versions would directly take you to the desktop instead.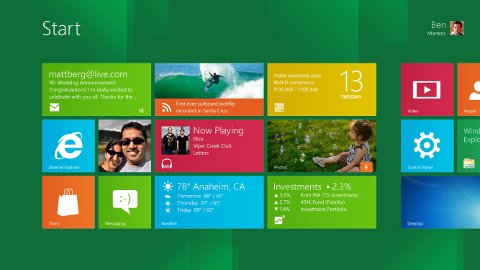 Although Metro Startup Screen is filled with quick shortcuts to applications and programs, many still like the old and familiar Desktop. Unfortunately Windows 8 doesn't give an option to skip the metro screen by default. But you can get around with these two tricks.
1. Using Start button adders.
Tools like Pokki or Startmenu8 adds the "Start" button or orb to your windows 8 desktop. On installation, these tools will by default configure windows8 to boot directly to the desktop bypassing the Metro screen. This is the best option as without a "Start" button, your desktop is pretty much useless. Please see the blow link for details.
Add start button and skip metro screen.
2. Using Skip Metro Suite Program.
Skip Metro Suite is an easy to use program which can skip the Metro UI each time you login to Windows 8. Its a standalone tool so you just need to install and run it. It has an "Enable Skip Metro Suite" checkbox which you need to click first. Without that, all other options will stay disabled. Not sure why it is required though :-)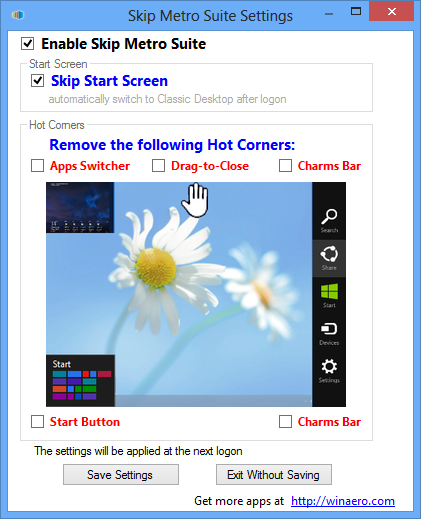 Apart from skipping the Metro UI, you can also customize the hot corner items as well. There is also a provision to add a start button, but I would recommend using Pokki or Startmenu8 if you really want a start button. They provide tons of functionality and are more customizable.
Skipping Metro UI for Windows 8 Developer preview.
IMPORTANT: The below hacks are now obsolete as Windows 8 is now fully released. These only apply to the developer previews of windows 8 that had come out.
For the earlier Developer preview version, there are a few hacks to bypass the metro screen completely -
1. Renaming shsxs.dll.
This is the easiest way I have seen. What you do is rename shsxs.dll file to shsxs_backup.dll. Here's where you can find it -
C:\windows\system32\shsxs.dll 
After renaming, just restart the computer and you will directly go to a desktop similar to the Windows 7 desktop. Here's how your desktop will look after the switch.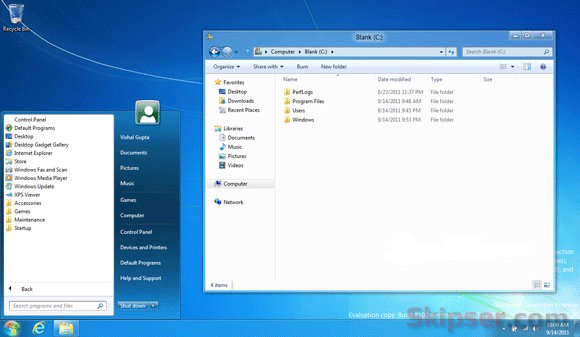 2. Registry hack to disable mero UI.
To do this, press the "Windows Key + R" combination to open a Run box. Type "regedit" and click OK. In the registry editor that comes up, navigate to the below path and change the value of the registry key "RPEnabled" to 0.
HKEY_CURRENT_USER\Software\Microsoft\Windows\CurrentVersion\Explorer
Once done, just log off or restart your computer and windows will directly take you to the classic windows 7 style desktop skipping the metro UI screen.
3. Use Metro UI tweaker tool.
For those who are not comfortable with changing registry values or renaming system files, Metro UI tweaker is a tool that makes it simple. Here's what you do -
Download and extract the Metro UI Tweaker zip file to get a folder named MUITW8. Open the folder to find Metro UI Tweaker.exe file.
Run it with admin rights. To do this, right click on the file and select "Run as administrator".
This may or may not start a system update for .NET framework depending on whether your system has the required .NET version or not. If prompted to, just allow your system to update .NET.
Start the application and select the option you want.

Click on "Apply" and click "yes" for the restart notification. From now on, you won't see the metro UI again and will be directly taken to the windows7-like desktop. Here are the options in detail -
Disable Metro Start Menu: Disables only Metro Start Menu Screen.
Disable Metro Ribbon: Disables only the Metro Ribbon UI.
Disable Metro Start Menu and Ribbon: Disables the Metro Start Menu UI, Ribbon UI, Metro Task Manager UI and the Lock Screen.
Enable Metro Start Menu and Ribbon: Re-enables all available Metro UI options.
Add Power Options to the Metro Start Menu Screen: Logoff, Switch User, Lock, Sleep, Restart and Shutdown
Add any Application/File to the Metro UI Start Menu Screen: You can add any application/file to the Metro Start Menu screen with this.
Metro UI Tweaker works for both 32-bit and 64-bit versions of Windows 8.