Tired of switching tabs to check updates in your favorite websites?
The most common situation is when you have your Facebook, twitter, Google+ and any other social networking sites open in your browser and to check updates, you need to switch tabs or windows every time. Did you ever wish you could see all of these websites on one tab?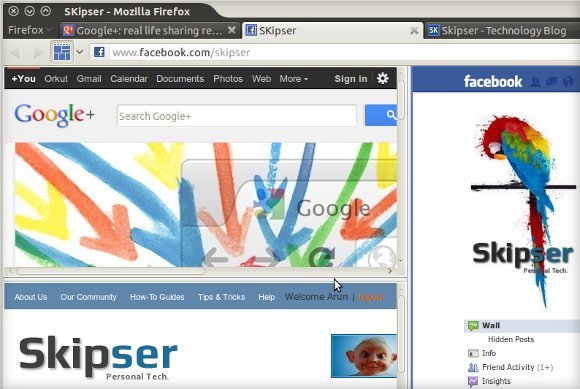 The Tile Tabs extension for Firefox enables you to just do that.It provides speedy access to all of your favorite websites without requiring you to switch between tabs or windows.
How to use Tile Tabs.
Installing the extension will add a tile tab button right next to the URL bar. The Down arrow next to it will give you a drop down menu with all options, and clicking on the icon directly will toggle tiled and non-tiled modes.
You can tile any number of tabs of your choice in a single page. You can tile your existing tabs, add new tabs and even change the assignment of tabs in the tiles. There are a few predefined layouts to start with and you can customize the tiles to any layout you need by adding, deleting, re-arranging and even re-sizing the tiles.
Clicking on a tile will select that tab. That means if you want a different page to load on a tile, you just need to select it and enter the new page URL in address bar. All tiling options are also available in the right click menu as well. See demo video -