Among the many changes in Windows 8 is the new Metro start screen and the removal of the start button. The "Start" button was first introduced in Windows 95. A lot of users including you and me are so used to this convenient starting point for programs, Windows 8 really sucks without it. So lets see how to get it back.
There are nearly a dozen "Start Menu" programs that have come out for Windows 8. Let's look at some of the best FREE ones.
1. Pokki
Pokki is actually a redesigned start menu. I has a better pinning system for frequently used programs. You can install apps directly from the start menu and even add widgets like Facebook and Gmail to display emails and status right on the start menu. And the best of all is - it is completely FREE.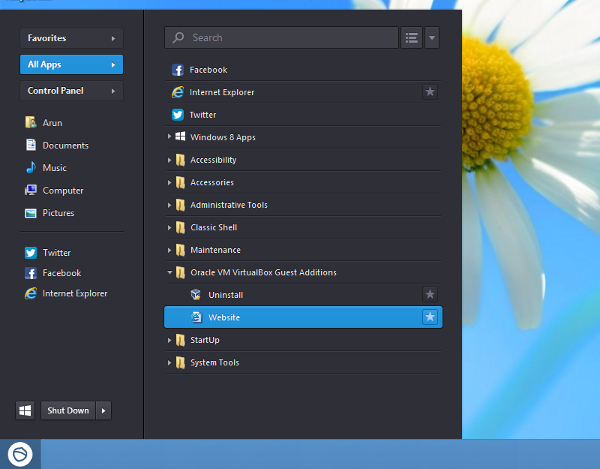 Pokki does more than just being a start menu replacement. Right click on the Pokki start button to select "settings" and it gives you a gold mine of options. By default pokki will configure windows to boot directly to your Desktop instead of going to the Metro UI screen.You can link the "Windows hot key" to the Pokki start button, disable hot corners or associate hot cornets to open the Pokki start menu as well.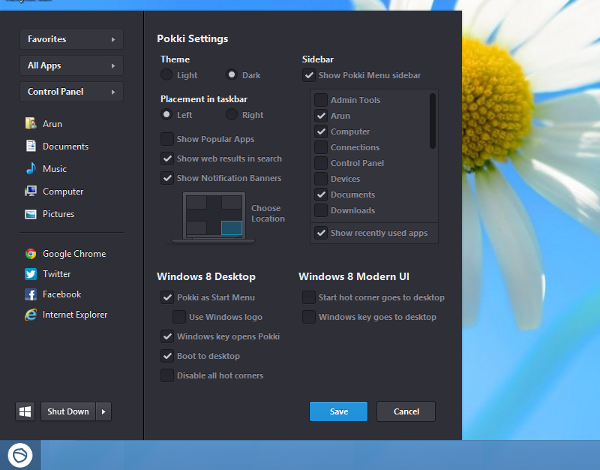 Pokki is so customizable, you won't even have to think of another replacement.
2. Win8StartButton
Win8StartButton is yet another Start Menu replacement which has a Metro style tiled look and feel. Most frequent apps are laid out as tiles and there is a quick search option to easily open programs. The only drawback of Win8StartButton is that the developers have written some of the options in German.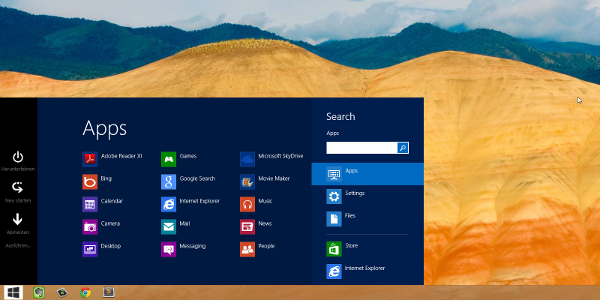 3. StartMenu8
StartMenu8 will give you back the classic Windows 7 style start menu. It is fairly configurable and gives you some Windows 8 specific toggles that are very useful. StartMenu8 skips the Windows 8 Start screen and goes straight to the Desktop by default. It also disables hot corners. You can change the Start button icon and choose which links to appear on the right side of the start menu.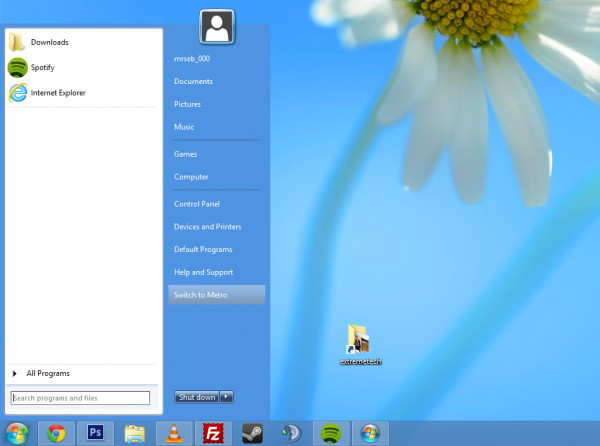 Watch out for additional bundlewares that can get installed if you are not careful with the options in the installer.
3. Classic Shell
The classic shell is a very experienced player in the Start Menu field. It was earlier used to get back the XP start menu in Windows 7. But now it is enhanced to support Windows 8 as well. Nothing much to be said about it as what you get is the exact same Windows 7 start menu.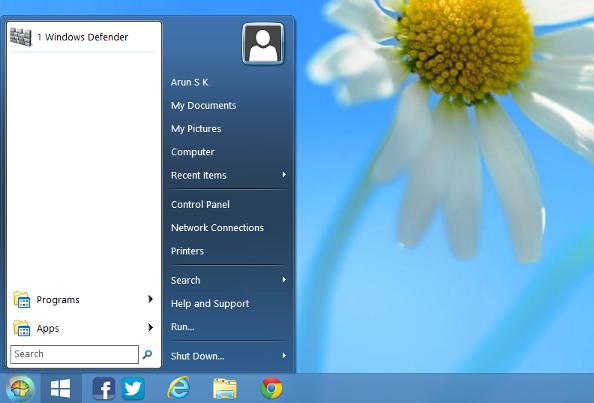 Vistart.
Vistart was first developed to bring Vista's start button to Windows XP. But it works fine for all later releases as well including the latest Windows 8. Once installed, you will have the good old Start orb in the usual bottom left position. Vistart also re-maps the windows hotkey (on your keyboard) to the start menu instead of the Metro UI.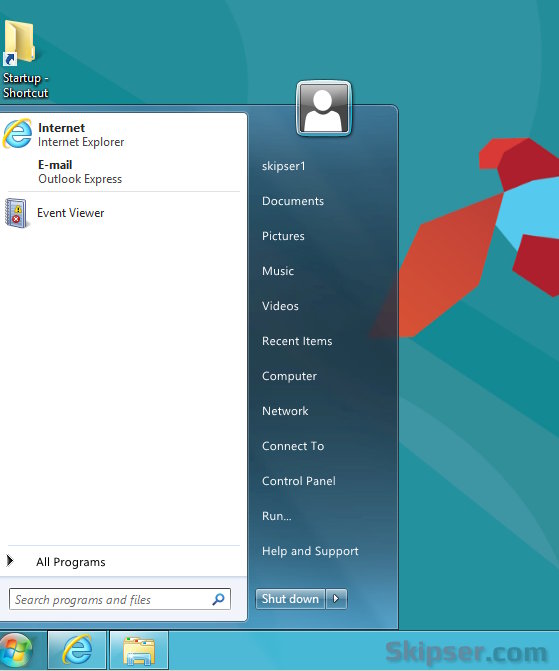 As with other freewares, watch out for optional bundlewares that can get installed if you are not careful during installation.
Also See: How to add "My Computer" to Windows 8 Desktop and Start screen.