The default font in most androids is Droid-Sans which Google took 2 years to perfect. Although it offers good readability and goes easy on the eyes, android doesn't have a built-in option to change it.
But you can easily change the default android font to any of 200+ fonts using the Font Installer app. Once installed, it will ask permission to download more than 200 fonts from its store. If you choose not to download, it will show a list of all 200 font names to choose from, but you won't be able to preview them. On the other hand if you choose to download, the app will show the fonts exactly the way they look and will also offer a preview option.
Changing fonts is super easy. Just tap of the font you need and select "Install". You will be asked to reboot and once done, the new font will be at your service.
Fonts need to be changed at system level, so you phone needs to be rooted for the app to work.
Tip: If you experience a download hang while downloading fonts, don't wait. Just go back using your android phone's back button, open the app once again and when asked, choose the download option. Font installer will start downloading only those fonts which are not already downloaded.
You can use the below link or QR code to download the app directly from Google's play store to your phone.
Download Font Installer.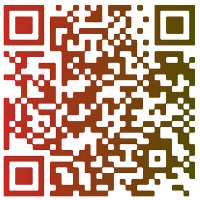 Also See: Overclock Your Android Phone to Unleash its Full Power.