Yahoo on 16th August 2011 has launched a new movie service solely aimed at Indian audience called Movieplex. Yahoo aims at piracy-free quality movie watching experience backed financially by ads.
Although with very limited collection of around 8 titles right now, Yahoo says it plans to bring in thousands of old and new Indian movies online.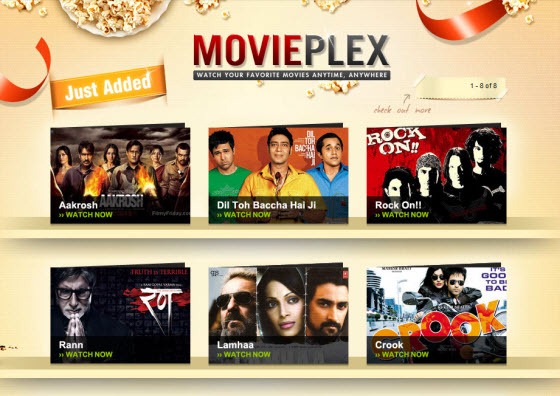 Movieplex is currently supported by advertisers like Samsung, LG and Maruti. The videos themselves doesn't have any pre-streaming ads except for a yahoo promotion ad currently. But this could change in future to show pre-streaming ads or ads in between the movies.
Compared to Google's BoxOffice channel launched much earlier, Movieplex looks amateur. Some drawbacks on a first hand trial are -
Yahoo's movie player doesn't allow choosing a resolution. Movie is streamed at one standard rate.
People with lower bandwidths might have a choppy viewing experience. Bandwidth at Yahoo's side also seems limited and video was choppy on a first try even though I had enough bandwidth.
The time line control is not that user friendly. If you want to go back and start watching from an earlier time point, the player seems to start streaming from the older point again instead of showing from a stored cache as in Youtube.
The default resolution is fine to watch, but is not in the wide format with all movies.
Yahoo has just started and all these could improve with time, considering that it already has a giant competitor - Youtube.
Piracy free movie steaming means acquiring exclusive streaming rights. That means you will have to use Movieplex for the movies that yahoo has rights. In a market of 30 Million Internet users and a monthly consumption of 1.7 billion videos across India, the competition would surely be tough.