There are lots of free desktop applications and browser add-ons available from the Internet which shows weather information and forecasts. Google also just added a new weather layer in Google maps which will show you the weather forecasts for up to 4 days around the globe.
To access the weather report, just hover the mouse over the widget on the top right side and select "Weather".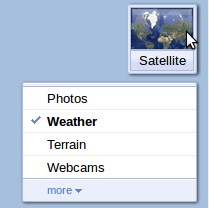 A new layer will appear on top of the map showing temperatures at major places around the area. Click on any one and it will show the details including weather forecasts for up to 4 days, humidity, wind-speed etc.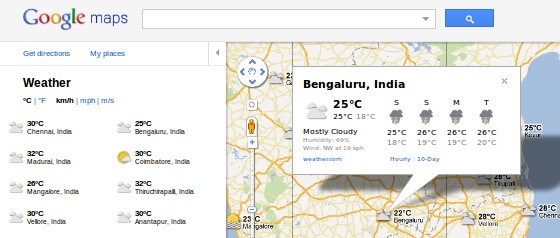 The readings are pulled in from weather.com and Google uses nice different icons for different weather conditions like sunny, clouds, raining etc.
A useful feature here is the "Hourly" and "10-Day" links. These take you to the weather.com website which will show you weather forecasts by the hour or for the upcoming 10 days for the selected location.
Another interesting aspect is you can also see clouds over the area. But to see the clouds you need to zoom out the map to a scale of 100miles/200Kilometers. Although clouds are shown both for map and satellite views, the satellite view gives a better picture than the map one.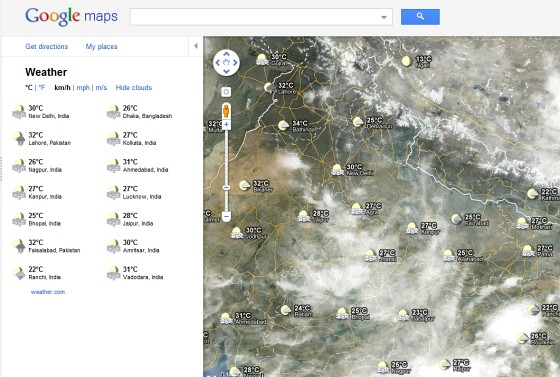 You can choose the units to show data like °C, °F, Km/h, Mil/h etc from the left panel. You can also see whether it is day or night from the sun/moon icons all over the places, although you need to look a bit closely to distinguish between them.
So next time you plan for a long holiday, make sure you have checked the weather using Google maps and preferably use the 10-Day link to make sure you will be one the safe side :)