Most of us are used to writing emails in English as it was the only option available. And if you ever wanted to write email in a different language, you had to write it in a separate language editor, copy-paste to your mail editor and send it.
But Gmail has now made it easy with Input Tools. Enabling it gives you the option to choose the language you want to write your mail in. Lets see how to use it.
The three flavors of Input Tools.
There are three ways in which you can type or input in your language. And not all the options are available for each language as well.
Transliteration: You can type phonetically in English letters and they will get replaced by their correct letters of the language. Keep in mind that transliteration is different from translation; the sound of the words is converted from one alphabet to the other, not the meaning.
Input Method Editor (IME): Use a Latin alphabet keyboard to convert your keystrokes to Asian characters. This option is not available to all languages.
Virtual Keyboard: Use an on-screen keyboard native to languages like Arabic, Hebrew, Thai and Korean.
The best option depends on the language and you'r preference. So while trying out, just try each available option and select the one you feel most comfortable with.
Enabling Input Tools.
First you need to enable input tools for your Gmail account. Click on the gear icon on the top right and select "Settings". In the general tab, look for "Language" option at the top and click on the "Show all language options" link on the right. This will make the "Enable input tools" option visible. Once you click to enable it, a popup window will show up for you to chose the languages you want to enable for your Gmail.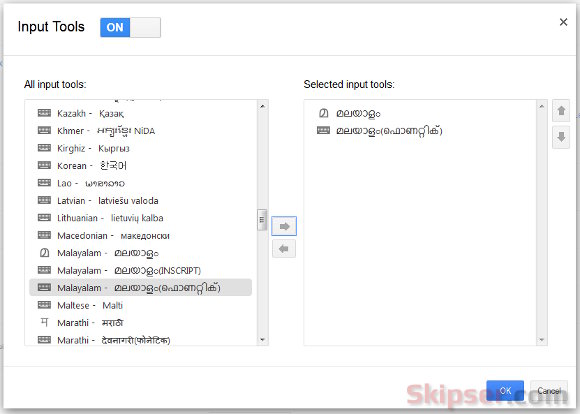 Now make sure you scroll down and click the "Save Changes" button.
Composing mail in your language.
Once you have enabled Input Tools, click on the "Compose" button to bring up the mail editor window. You will see a new button on the top right of the editor with the icon of a keyboard or any one letter of your language. Click on it to select your language and input type.
That's it. Now start typing and enjoy. If you find the Transliteration or IME methods to be uncomfortable, there is the virtual keyboard option to the rescue. Here's a video explaining the usage of Input Tools.
Now you need to understand that with languages other than English, you will be sending a html mail always. That means the recipient won't be able to read your mail if he is using a non-html text only email client. Since this is unlikely 99% of the time, so you are safe. But if you know there is such a limitation for your recipient, make sure you use only English.