New year is round the corner and every body is getting ready for the bash. It is time to celebrate and send wishes to your friends, relatives and well-wishers. But instead of sending the "Happy new year" message a day before as usual, why not do it a bit different this time and give your friends a surprise?
Yes, how cool it would be if your friends see a New Year greeting from you sent exactly on 1st Jan morning 00:00 hours.
But definitely you won't be in a mood to send emails at this exact time

. Not to worry - here's a simple tool that lets you schedule emails in Gmail at any time you want.
Boomerang to send Gmail email at any time.
Boomerang is a browser extension available for all major browsers like Firefox, Safari and Chrome. Just install this extension and reload your Gmail account (press F5). Now try composing a new mail and you will find a new "Boomerang" menu and "Send Later" button just below the "Send" button.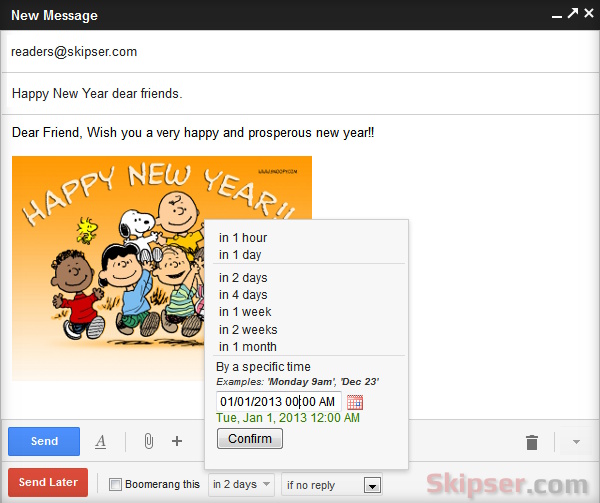 You can use this to schedule a Gmail email to be sent at any future time you want. Your message will saved and will be sent at right time for the entered recipients. If you are interested, here's a detailed walk-through of Boomerang for Gmail.
So go ahead and send a special New Year greeting to your friends and do add in any complements you get as comments below.