By default, Windows 8 doesn't show a calculator app in the Metro UI screen. Windows 8 still packs the good old calculator from windows 7, but it is not an app. So if you want a calculator on your Metro UI, there are two options -
Install the cool new Calculator² app.
Pin the Calc program in Metro UI screen.
Add Calculator² app to Metro UI.
Calculator² is a smart calculator with 5 different modes: Basic, Scientific, Programmer, Currency Converter and Unit Converter. To switch modes, just right click any where on the screen and the mode selector will come down.

Calculator² is easy to use with large buttons, clutter free interface, scientific functions, constants and history for all operations. An interesting feature in the basic mode itself is a customizable tax button to calculate total price including tax with a single click.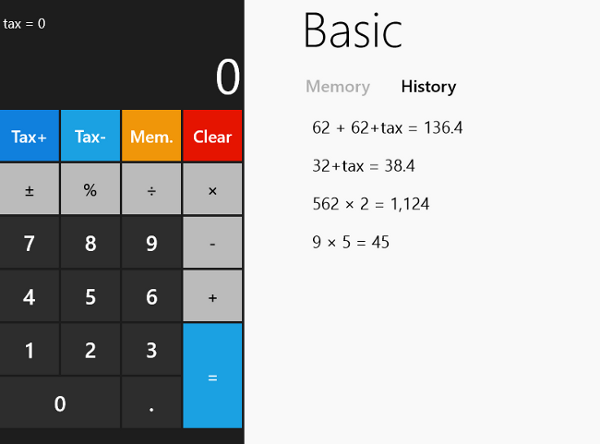 The currency converter is another feature which can be real handy. It features more than 150 currencies which you can convert between each other.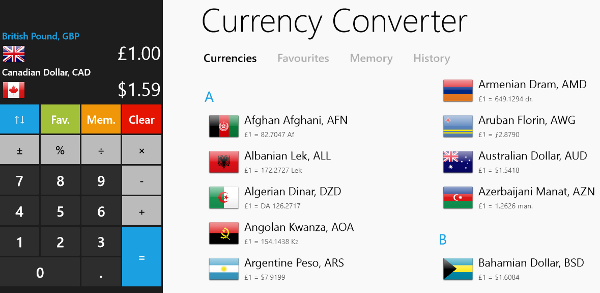 Some other features of Calculator² app include -
Over 50 scientific functions.
Keyboard and mouse support.
125 mathematical and physical constants
Statistical functions for memory values
Over 200 units for conversions across 17 categories
Calculation history
Auto, Fixed point, Scientific, and Engineering display formats with choice of digit grouping
Enable or disable operator precedence
Copy/paste + Undo function
64, 32, 16 and 8 bit word lengths for the Programmer Calculator, including signed or unsigned integers
Tip: To change any calculator setting like tax rate, just move your mouse to top right corner of the screen to bring out the charms menu and select settings.
Pin Calc Program to Metro UI.
To pin the good old calculator to your Metro UI screen,
Bring your mouse to the top right of the screen and from the charms menu that comes up, click on "search".
Type in "calc" and the calculator will appear on the left. Right click on it and from the bottom menu that comes up, select "Pin toStart".

That's it, you will now have the calculator in a new tile on your Metro UI screen.
Conclusion.
The Calculator app deniability packs more power and functionality than the inbuilt windows calculator. It's bigger interface is more easier to use as well. It comes completely free supported by ads and you can get rid of the ads by buying the pro version for $1.99.