Google+ has introduced a new layout where you can add your own cover photo or banner. Although many criticize it as a "Borrowed Feature" from Facebook, it totally makes your profile look cool.
Using beautiful & catchy images will definitely boost your visibility and circle counts. And having an animated gif image for your profile cover photo will make it stunning.
Adding animated gif in Google+ cover photo.
You can upload images of almost any size and format(jpg, png, gif etc) to Google+. The standard size for your Google+ cover photo is 940x180 pixels. If you try uploading an image of any other size, you will be asked to select a portion of the image. Once Google+ cuts out the selected part, it is saved as an image in PNG format which doesn't support animation.
So the trick to upload an animated gif image and maintain the animation is to make sure Google+ doesn't cut the image. And that is possible if you use gif images of size exactly 940x180 pixels, so Google+ doesn't have to do any cutting or cropping. For instance, here's how my Google+ profile looks -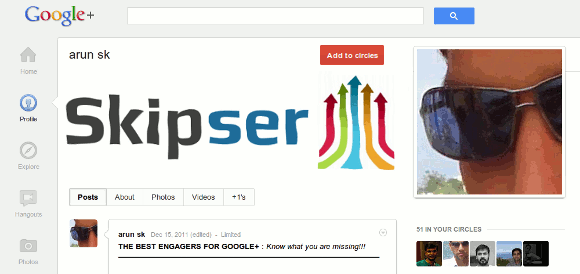 So try making your profile come to life by using animated gif images of size exactly 940x180 pixels and do let me know if you liked the trick.
Also see: Google+ Cover Photo - Tips & Tricks.