Rarely it could happen that your Outlook .pst files (that contains all your mails) can go corrupted. Could be due to a bad shutdown, a windows error or a virus. This message surely made me pull my hair up.

The next thing we do is to Google for tools to fix broken .pst files and there are hundreds out there, mostly paid ones.
The interesting thing you never knew is - a free tool called scanpst.exe is already available in your office installation directory which can fix broken .pst files.
How to locate repair tool
The location of scanpst.exe depends on the Outlook version and your computer configuration. The list below will help you locate the tool in your computer-
Important: Scanpst.exe usually will have the "hidden" attribute set. So make sure that the "Show hidden files and Folders" option is enabled in folder options.
Outlook 2010
C:\Program Files (x86)\Microsoft Office\Office14\

Outlook 2007
C:\Program Files (x86)\Microsoft Office\Office12\

Outlook 2003
C:\Program Files (x86)\Common Files\System\MSMAPI\<locale ID>\

Outlook 2002/XP
C:\Program Files\Common Files\System\MAPI\<locale ID>\

Outlook 2000
C:\Program Files\Common Files\System\MAPI\<locale ID>\NT\

Outlook 97 / Outlook 98
C:\Program Files\Common Files\Windows Messaging\
Running Scanpst
Once you locate scanpst.exe, just run it and it will ask for your .pst file. To find the .pst file, just start outlook once more, so the error message is displayed again. The location of the .pst file will be mentioned in the error message. Browse for the file and add it.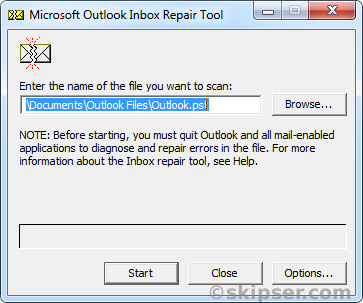 Click on start and it will start scanning your .pst file.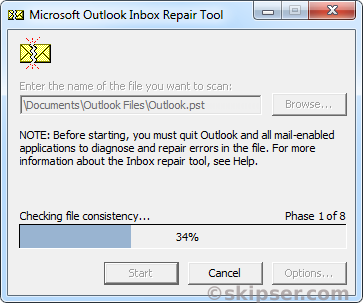 Once the scanning is done, a report will be presented to you with details of the scan. If errors are found, a repair button will be shown active.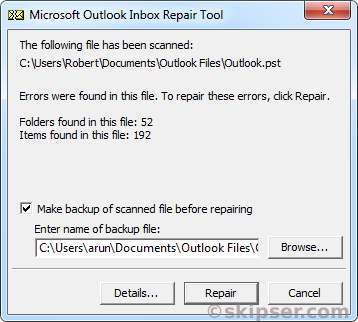 Just click on "Repair" and it will start the repair process. Please note that it might appear to hang initially with the title bar not responding to mouse clicks or moves. Please don't panic. Scanpst is taking a copy of your huge pst file before repairing. Depending on the size of your .pst file and the speed of your hard disk, this can take a while.
Once its done and all goes fine, it will show a "Repair Complete" message. Now your .pst file will open properly and mails will appear as before in Outlook.
Scanpst can repair the following items -
Calendar

Contacts

Deleted Items

Inbox

Journal

Notes

Outbox

Sent Items

Tasks
Scanpst can only work if your .pst file size is under 2Gb. For bigger files, you can try truncating the .pst file to 2Gb before attempting Scanpst.