Opera, one of the lesser known browsers have released their latest version 11.1.

One of the innovative features that make Opera stand apart from other browsers is it's built-in Turbo mode that lets you browse the web faster even on slow connections. The feature can also help you save money when you are on a metered Internet connection, like that hotel room, where you have to pay per byte.

Let's see how it works. When you request a web page - say skipser.com - your browser will connect directly to the skipser.com server to download all the images, text, and other associated files. However, in the case of Turbo mode, the same request is sent to Opera servers. Opera server will download the page, compress all the associated files and send then to your browser.

The content and layout of the page doesn't change after compression though the quality of images is often reduced. Since your browser now has to download lesser number of bytes for the same web page, it will load a lot faster on your computer.
Turbo was present in earlier version also. What's new?
The Turbo mode has been part of Opera since version 10 but from the new 11.1 release, Opera servers are now using Google's WebP image format, instead of JPEG, to compress images. As a result, the byte size of the compressed images is reduced even further without much degradation in the visual quality.
See for yourself how image quality is affected with turbo.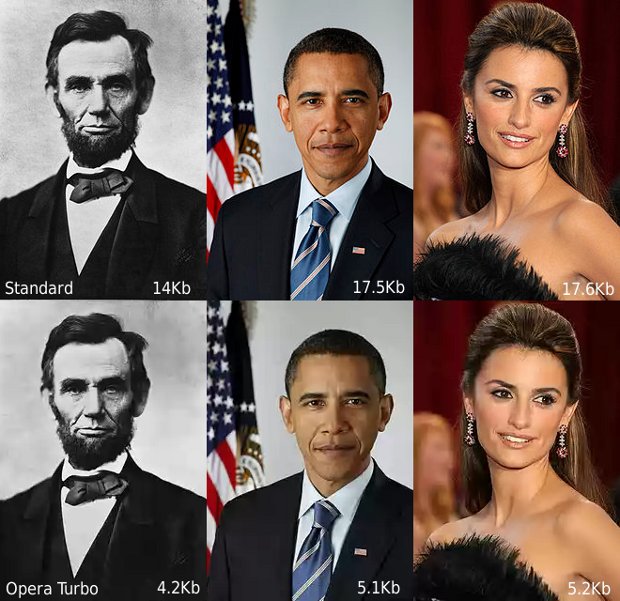 The quality of compressed images is quite acceptable. In some cases the images compressed with WebP look better (or smoother) than the ones that have been compressed using JPEG.
Use it smartly in smartphones.
The new turbo technology can be put to use very effectively in smartphones. Most smartphone users have pay-for-usage internet plans. Further, the speeds are also comparitively lesser.
This makes the mobile version of opera - "Opera mobile" which also uses the turbo technology, an ideal choice for smartphones.
Also read: How to turn your computer into a server with one click.