You may find this technique useful even if you are not a very tech-savvy user.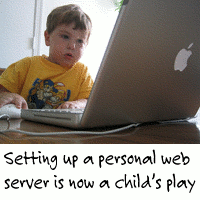 Consider a few sample scenarios where you want to access files on your computer from a remote location.
#1. Say you have some files which you want to access from your office or any other machine with an Internet connection. E.g. MP3s, photos etc.
#2. You have some photos which you want to share with friends and family. One option is to upload them to a photo sharing site like Flickr. But you need to upload and if the size is more, you know how much time is wasted.
#3. You want to host a website on the Internet but the web hosting jargon like FTP, DNS, etc. is way too complex for you.
Now if any of the above reasons look convincing enough, here's how you can convert your PC into a web server in less than two minutes - no technical knowledge required.
The only thing to do is to install the opera unite web-server application from here. During installation, it will ask you for a folder whose contents will be shown for your web-site. Once done, Congratulations, you are now running a web server on your machine.
Here's an illustrated screen-shot of the configuration panel - nothing technical here again.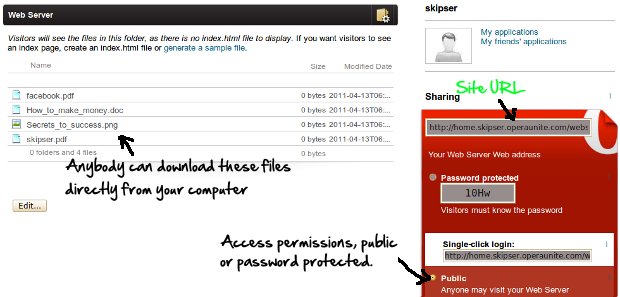 You can change the folder shared/published any time. Any file or folder inside the published folder can now be accessed over the Internet - you can either use a public URL or specify a password for private sharing.
The following screen-cast video has more detailed instructions on how to get started with Opera Unite or you may refer to the User Guide if you get stuck somewhere.