Indian Premier League 2011 matches will be officially broadcasted by SET Max, a channel owned by Sony. There will be 74 matches played between 10 teams over a period of 51 days across India. The teams are-
Mumbai Indians
Bangalore Royal Challengers
Deccan Chargers
Kolkata Knight Riders
Chennai Super Kings
Delhi Daredevils
Kings XI
Punjab, Rajasthan Royals
Pune Warriors India
Kochi Tuskers Kerala.
How to Watch IPL 2011 Cricket Online Live
If you don't have cable TV or are looking to watch the IPL cricket matches on your computer via streaming Internet video, here's something for you.
All cricket matches for the previous IPL series streamed live on YouTube but this year, the telecast rights for 2011 IPL have been awarded to Times Internet for mobile, radio and the Internet. The Times has created a microsite at ipl.indiatimes.com where all the IPL cricket matches will be streamed live.
IndiaTimes has also partnered with Google for the IPL 2011 broadcast and all matches will be streamed live on YouTube at youtube.com/indiatimes. This is only a wrapper site and the live video source is the same as indiatimes.com.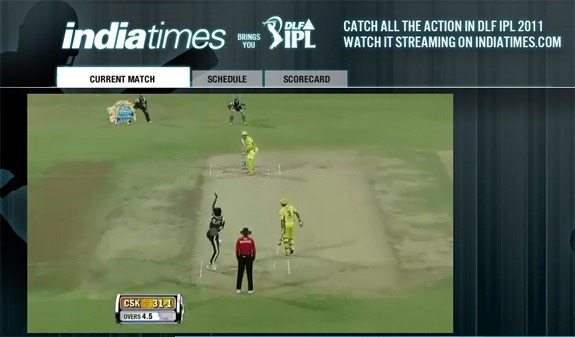 If you are outside India, you should still be able to watch every Indian Premier League match though the broadcaster could be different. For instance, Ten Network will provide live coverage for IPL in Australia, Rogers Sportsnet in Canada, ITV4 in the UK, ADD if you are in the Middle East, Geo Super in Pakistan and so on.
Internet users in the UK will be able to watch the matches live through itv.com. Finally if you would like to watch the IPL matches live on your mobile phone in the U.S., Willow TV is another option. They can stream on nearly every mobile phone and also support set top boxes like the Roku, Google TV, Boxee, etc.
You may refer to Wikipedia for a complete list of TV channels that secured the broadcasting rights of the Indian Premier League 2011 in your country.