In Twitter we follow our friends and other people whose updates we like. But not all posts from everybody is interesting. A lot of times it so happens that a friend you follow re-tweets posts from a particular person frequently. But you might not like those posts and don't want to see them on your stream at all.
You don't want to un-follow your friend completely as well because you do want to listen to his other tweets. So something like a mutual friend re-tweeting posts from your ex-girlfriend you are so trying to forget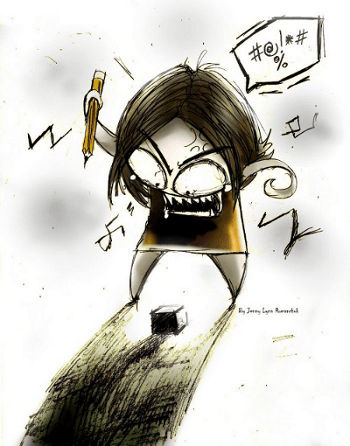 How To Mute All Tweets From a Twitter User
Twitter has a special "mute" feature using which you can completely block tweets from a particular person. That means even if somebody you are following re-tweets posts from a person you have muted, they won't appear in your twitter stream.
To mute a person, go to his/her twitter profile page. Click the gear icon just next to the "Follow" button and choose the "Mute person" option.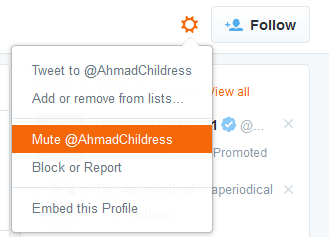 Please note that muting won't effect commercial posts which twitter inserts into your stream as sponsored/advertisement posts. That means a commercial post from a muted account can still appear in your stream. If you want to avoid commercial posts as well, you need to block that user. To do this, click on the gear icon from the user's profile page and select "Block or report user".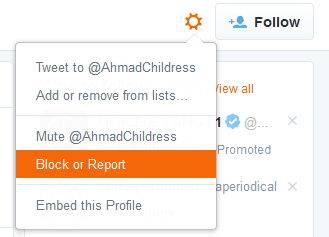 Blocking does a bit more than muting. Here are a few things a person you have muted can do, but a blocked person cannot -
Add your Twitter account to their lists.
Have their @replies or mentions show in your mentions tab (although these Tweets may still appear in search).
Follow you.
See your profile picture on their profile page or in their timeline.
Tag you in a photo.
You can also manage your muted twitter accounts from twitter "Muted" page - https://twitter.com/settings/muted. Twitter will show you all the accounts you have muted and you can un-mute any peron whenever you choose to. Unfortunately there is no option to see all blocked accounts in twitter yet. But there are third party sites like Blocked by me which can help.