Yahoo small business only gives you POP/SMTP email access configuration in the web hosting control panel.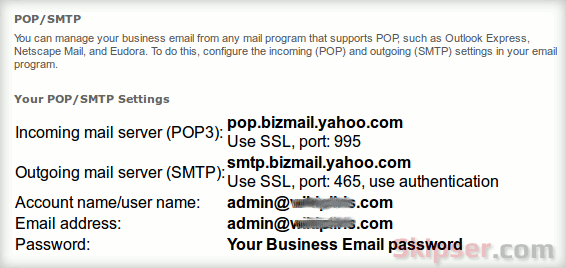 But POP only supports simple download and delete operations. That means only a copy of the message is downloaded to your email client and a deleting emails only deletes your local copy. The emails in the server remains intact and you need to periodically check and remove unwanted mails in the server manually to avoid filling up your space quota.
On the contrary, IMAP provides better mail management by mirroring all actions you do in your email client with the server. That means if you delete a message in the IMAP mail account of your client, the same is deleted from your mail server as well.
Although not publicised by Yahoo, it is actually possible to create an IMAP account for your small business mail. Here are the settings you need
Incoming Server - imap.mail.yahoo.com (Use SSL/TSL with port 993)
Username - Your small business email address.
Outgoing Server - smtp.bizmail.yahoo.com (Use SSL/TSL with port 465)
Password - Your small business hosting password.
Here's an example of how the configuration looks for Mozilla Thunderbird. The same holds good for any other email client like Microsoft Outlook or your Phone email client as well.