YouTube is undoubtedly the best video site that lets you make money out of your videos. And the only way to make more is to have more people watch your videos. YouTube has just made it easy to attract more subscribers for your YouTube channel with the "one click YouTube button".
Unlike the older subscribe badge, the new button doesn't redirect users away from your site to YouTube.com. Your reader's can now subscribe to your YouTube channel right from your blog or website making it just like Facebook like or twitter follow button.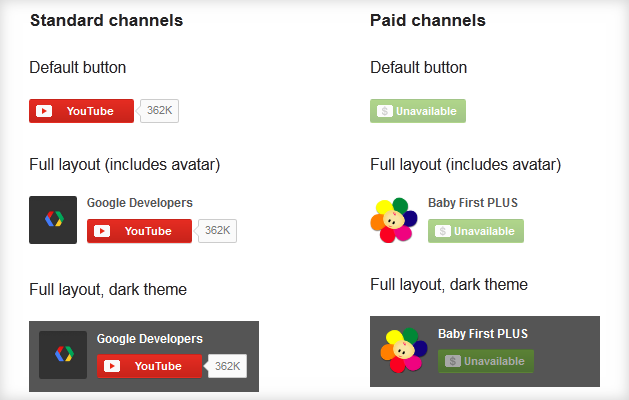 As you can see, the button will be colored red for standard users and green for paid users. Two customization options are also provided.
Layout - choose from "default" or "full". Default shows only the button with subscriber count where as the full option will show your profile picture and channel name as well.
Theme - can be "default" or "dark". The default has a white background where as the dark one as a grayish-black background.
Add YouTube Subscribe button to Your website.
You can add the YouTube subscribe button on your website using a small piece of code from the official YouTube subscribe button page. Input your channel id and select the theme/layout to get a small embed code you can add to your website where you want the button to appear.
Add YouTube button to WordPress.
The YouTube Subscribe plugin that makes it easy to add YouTube subscribe button to WordPress sites. You can download the plugin from the WordPress site-
WordPress YouTube Subscribe Button Plugin.
Install the plugin, give your YouTube channel ID or name and select the layout/theme. That's it, the subscribe button will show up where you added it.
Things to know.
YouTube also has some don't-dos for the new button -
You may not offer or promote prizes or rewards of any kind in exchange for clicking on a YouTube Subscribe button.
Buttons must be fully and clearly visible.
You may not use a Subscribe Button to track any data about a user related to the user's actions or browsing activity, including without limitation whether or not a user clicks on a YouTube Subscribe button. This prohibition includes but is not limited to using pixels, cookies, or other methods of recognizing when a user clicks on a YouTube button.
Violation of these terms could lead to termination of your YouTube account itself. So please be careful using the button.