Google Drive came out with a bang. With the huge number of first day opt-ins, Google even had to limit initial users with a virtual queue. Compared to its competitors like Dropbox, it has all the goodies too.
Google drive offers 5Gb free storage compared to a meager 2Gb from Dropbox(as of this writing). It also comes with excellent integration for both PC and MAC, the same as with Dropbox. Google Drive also fares better on the pricing front with more Gbs for the same cost in case you want extra storage.
But Is it all that sugary with Google?
So while everybody is flocking under Google's wings, here's some thing you need to be very clear about. The service we are talking about is your backup storage. Obviously, with the limited free space, you won't be backing up anything and everything on your desktop. Your most important documents and files would be the ones that will get there first and a lot of these would have private confidential data you don't want others to see or use.
So the million dollar question is - HOW PROTECTED IS YOUR PRIVACY?
Google Drive privacy policy.
Ok, so here's some shock treatment for your eyes. Google's privacy terms and conditions state -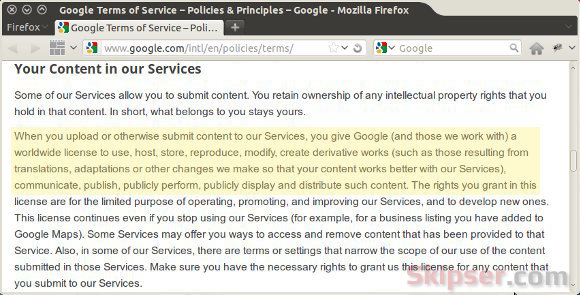 Here's the highlighted portion in detail -
When you upload or otherwise submit content to our Services, you give Google (and those we work with) a worldwide license to use, host, store, reproduce, modify, create derivative works (such as those resulting from translations, adaptations or other changes we make so that your content works better with our Services), communicate, publish, publicly perform, publicly display and distribute such content.
WOW, wait a minute.. Does that mean if I upload a spreadsheet having my banking details, they can get published?
Dropbox privacy policy.
I am sure you are still recovering from that shock, but lets see Dropboxe's T&C.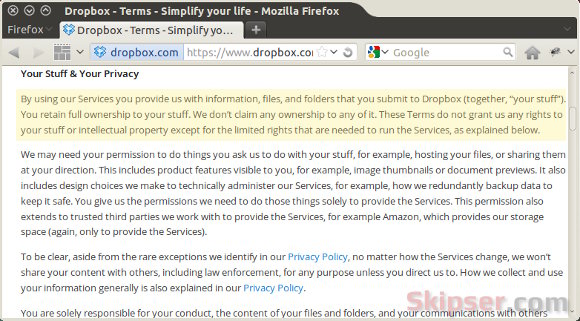 The highlighted portion reads -
You retain full ownership to your stuff. We don't claim any ownership to any of it. These Terms do not grant us any rights to your stuff or intellectual property except for the limited rights that are needed to run the Services, as explained below.
Now that sounds more reasonable. No hidden catches, no surprises. Your stuff is your stuff, we won't touch them. Bravo Dropbox!!! That was more in-line with my expectations about rights and privacy.
Conclusion.
Google as we all know it is not an evil privacy eating monster. Gmail and Google docs are among the most used web services on the planet and they have all well exceeded the privacy expectations of users. But still having such a T&C can make any user to think twice.
What do you think? Should Google change its T&C? Given the choice, which one would you prefer now that you know what's lying inside. Before you start adding in your comments, please do follow me on Facebook, Twitter or Google+.