Showing thumbnails is one of the most useful features of Windows explorer. Especially when you want to find that one photo among the pack, there is no better option.
For images, almost all popular formats are supported by default. On the contrary, the thumbnail feature doesn't work for all video formats. For instance, you won't be able to view thumbnails of a flash video (.flv) by default in Windows explorer. You would either see a black screen preview or a "No preview available" message for such files.
How to see thumbnails of all video formats.
Media Preview is a freeware tool which allows you to see thumbnails of almost any video format out there. Just install the tool and the "File Association" screen will open up.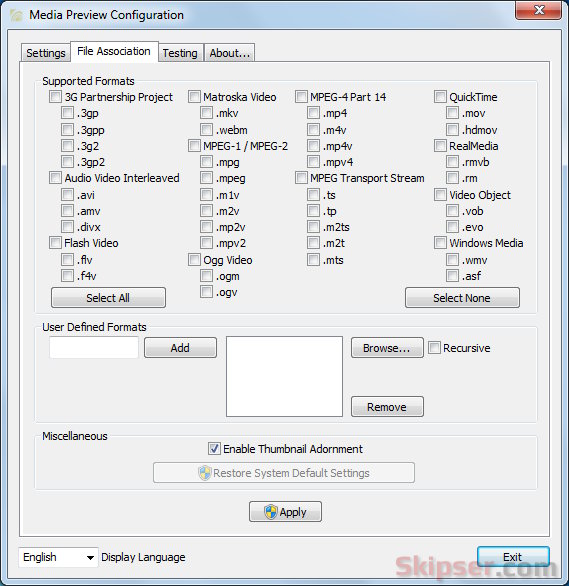 Here you can select the types of files you want Media Preview to show thumbnails. Almost all formats are available including .mkv, .mp4, .mov, .rm, .ogm and .ogv which are the tough ones.
The easy option - use "Select All" and click "Apply". You will have to restart Windows Explorer once you apply the settings and after that you will be able to see thumbnails of all videos. You can also add your own formats and associate them with programs as well.
There is another big advantage with Media Preview tool. The windows default preview is always the first frame of the video. That means if you are previewing a movie, the first frame usually will be the producer's introduction part which doesn't give a clue to identify the movie. But with Media Preview, the preview image is taken from a bit deeper into the video giving a much better picture. For instance, here's how Media Preview tool improves the preview of the move "Silence of the lambs".
While browsing, the thumbnails generated on the fly are cached by Media Preview to speed up display the next time you select that file. Of course, if you find any issues, you can always revert back to system defaults using the "Restore System Default Settings" button.
Both 32 and 64 bit versions of Media Preview is available for all windows versions including Windows 8.