More than half a million apps are available for Facebook and most of the apps ask for sharing your email address before you can add them to your Facebook profile.
E.g. If you want to play FarmVille on Facebook, you would first go to FarmVille Facebook page and click on "Play Now". Immediately a new screen will come up asking if the game developers (Zinga in this case) can access your basic information like name, email and a few others as below.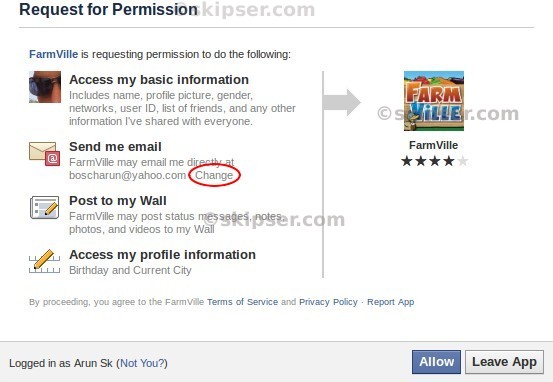 If you don't want to share your email address with the developers, but still want to use the app, here is what you need to do:
Click on "Change" under the section "Send me Email" and Facebook will give you options to either use your main email address or an anonymous proxy email address which Facebook will share with the app developers.
Emails sent to this proxy email id will still come to your main inbox. But as soon as you remove the app from your profile, the anonymous email id is also removed forever.
The developers only get the proxy email id and not the main one. So once removed, you need not worry about further unwanted mails or your main email id getting leaked out.
But I don't see the "Change" option in permission request
There are cases where Facebook permission request doesn't have the "change" option. This can happen when you try to connect to the app from a web page other than the apps Facebook page.
E.g. Clicking on play now from FarmVille website will show a permission request page as below.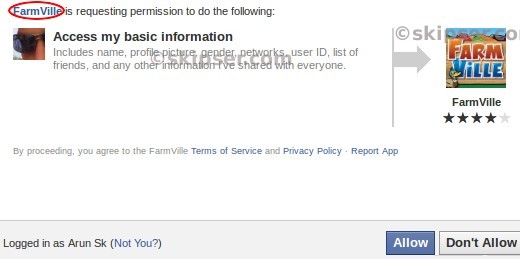 To make Facebook show the options, click on the app name as shown circled in the image above. This will take you to the official Facebook page of the app. Just click on the "Go to App" button and Facebook will show you the permission request page having the "Change" option.