There would be many youtube videos which you would like to watch more than once. Instead of streaming them every time, it makes better sense to download and store these special videos in your hard disk so you don't have to waste bandwidth every time.
Although there are many online services and programs to download Youtube vidoes, most of them are either not secure or requires you to play the video on a browser first. And the easy YouTube video downloaders were only available on windows.
ClipGrab is the most convenient way to download youtube video in Ubuntu.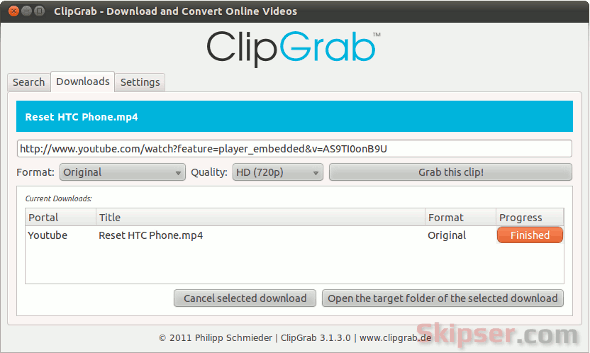 Downloading a YouTube video using ClipGrab is very simple. Just copy and input the video URL and click on "Grab this clip". The video will get downloaded to a desired location on your hard disk.
What makes ClipGrab awesome are its additional features. Some of them are -
You can choose the quality of video to download.
You can choose a video format to download (MPEG4, OGG, WMV and the original flv format)
Listen for streaming videos and ask to download automatically.
Proxy support.
Search and download videos.
Supports most popular video services like YouTube, Vimeo, Dailymotion and many others.
Installing ClipGrab in Ubuntu is very easy with these two commands -
sudo add-apt-repository ppa:clipgrab-team/ppa
sudo apt-get update && sudo apt-get install clipgrab
So go ahead and try this cool streaming video downloader and do let me know your experience as comments below.
Also see: How to speed up your Ubuntu.