We use our android phones for storing private data so they can be accessed any time. There are lots of heavy weight note apps in the play store like Evernotes, Google Keep or even Google Docs that lets you create all types of notes. One think lacking with all of these is that there is no immediate security protection option available. Even if it is, you need to pay for it.
But there are many free light weight apps in the play store that lets you store data securely in your android phone providing all the features you need at the same time. Here are the top five -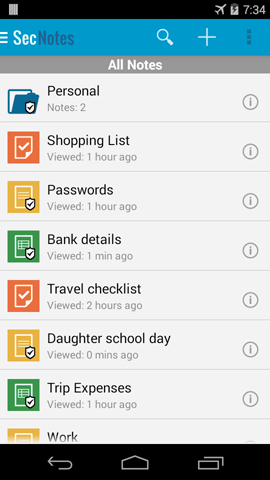 Sec-notes lets you create text notes, spreadsheets (with formulas) and checklists. The best thing about sec-notes is that security can be applied selectively to notes. It uses AES-128 encryption to store all data internally as well which means a thief would never be able to get any data even if he manages to root the phone.
The notes editor has all the formatting options one can think of. Besides that here are some interesting features-
Password/pin/pattern options for security. Notes can be individually protected so the less important notes can be opened without being interrupted by password.
Uses AES-128 encryption to store all data internally.
Three types of notes - text, spreadsheets & checklists.
All text formatting options.
Undo/Redo option for editing notes (not found in many other notes apps).
Attach images and videos to notes.
Save notes as text, excel(.xls) files in SD card.
Share notes via email, SMS, Bluetooth etc.
Easy search.
Custom sorting of notes.
Home screen shortcuts to notes.
Cloud backups (Google drive, Dropbox), SD card backup options and autosave.
Reminders.
Text to speech to read notes aloud.
Download Sec Notes from play store.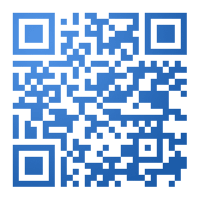 2. Secure Notes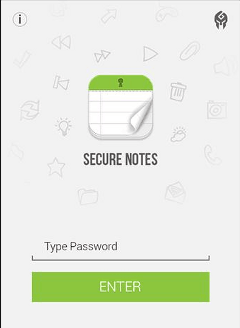 Secure notes is another very elegant text notes app. It uses AES encryption and provides quick & easy access using a simple password or a secret question/answer. Safe Notes stores all your data on the SD card instead of using internal memory.
Features Include:
very minimal UI and easy usability.
Password Protect Program.
Encrypt/Decrypt Note.
Sorting notes (a-z, date).
All notes stored in memory card not phone memory.
If you want you can Share with your friends.
Optimized for HD tablets.
3. Color Note: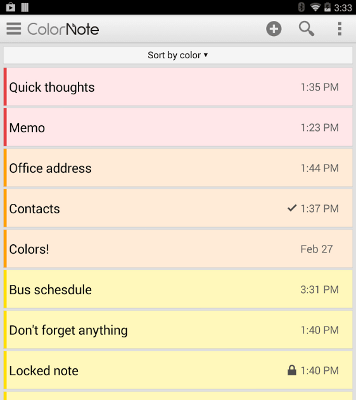 ColorNote is a simple notes app. It gives you simple text notes and checklists. One of its distinct features is allowing organizing notes using colors. Some important features-
Organize notes by color.
Sticky note Widget.
Checklist notes for To do list & Shopping list.
Organize your schedule by note in calendar.
Password Lock note : Protect your notes by passcode.
Secured backup notes to SD storage.
Reminder notes on status bar.
Search notes.
4. Safe Notes: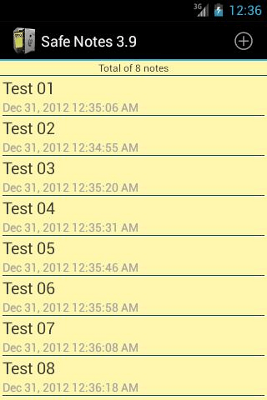 Safe note is yet another simple text notes app. It also uses AES encryption and is probably the oldest in the pack. It provides access using a simple pin number or a secret question/answer. Safe note stores all data on SD card. here are some features-
Pin Number or secret question/answer for security.
Create/Delete notes
Sort Options (ascending and descending)
Search functionality
Share note as SMS or Email
All data stored on SD card
5. Password Notes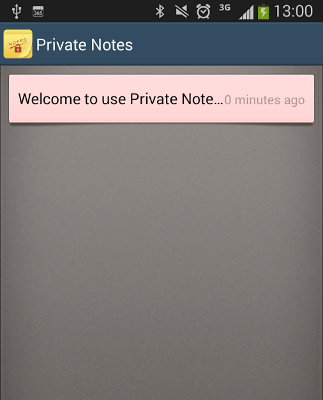 Password Notes is another elegant notepad app with password protection. You can create simple notes and checklists. It features -
Pattern & password protection.
Invisible pattern password;
Mark note with different colors.
Home screen widget.