Facebook is all set to give Google Drive some competition with it's new file sharing service. You can upload and share documents to anybody in Facebook using groups.
Here's how it works -
Facebook allows you to share files within a group. Anybody who is a member of the group can upload and share files within the group (except if posting permission is admin only). The visibility of an uploaded file also depends on the group privacy policy which can be either public or members only.
Uploading files in a group.
To upload a file to a group, first navigate to the group, click the "Upload File" option and select a file to upload. You can upload almost any file except for music files and executables (sorry hackers).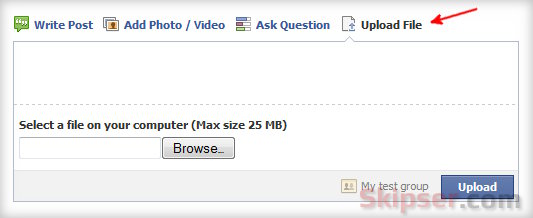 Once uploaded, a post will be added to to your group's wall with details of the upload. Please note that the post will only appear on the group's wall and not your personal wall. If you want to inform all your Facebook friends about the file you just uploaded, make sure you share the upload post.
After a file is uploaded, any member of the group can view and download the file from the "Files" section.

Now there is another cool feature that makes Facebook's file sharing different: version control. That means you can upload multiple versions of the same file and maintain a version history.
To download a file, go to the "Files" section and click on the file to download. This will bring up the entire version history of the file having download option for each version. You can preview any version, download any version or upload a new version of the file.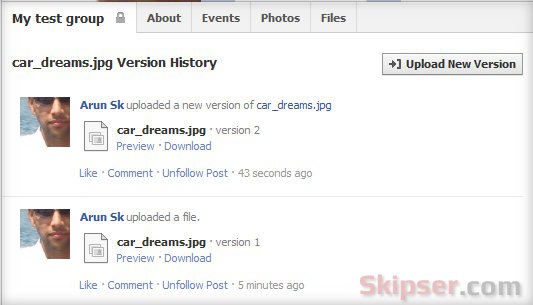 You can also delete any version of the file selectively. That means if you want to completely remove a file from a group, you will have to delete all versions. Although not a fun-killer, it would have been better if there was a "Delete all versions" option too. Especially if you decide to delete a file with 100 versions, that's going to be a pain :)
Features of Facebook Upload.
Here's a quick summary of Facebook's upload feature -
There is no limit to the number of files you can upload, although individual files can't be bigger than 25Mb.
Privacy settings can be easily set to control who can download files.
Almost any type of file can be uploaded except for executables and music files.
Version control really makes it easy to maintain files especially when you need to upload periodically with updates.
Uploads can be marked spam or illegal by users.
For most common file types like text, images, word documents etc, Facebook provides a preview option. Previews of images and simple text are rendered in popup boxes while word documents are previewed using Microsoft's online office application.