Facebook is has around 700 million users. At the same time, a Consumer Reports study found that around 7.5 million children on the social network under the age of 13 – the company's legal minimum age. The study also revealed that the majority of parents of those underage users have no clue what their young ones are doing not to say most don't even know their children has a Facebook account.
Should parents be worried? Yes all the parents are ought to be worried about their childrens facebook activity. They should be worried about what their friends talk with them, what kind of language they use on facebook, how old are their friends and many more things.
But it isn't an easy task to track and get an overall picture of their facebook activity directly. Not to worry, now there is a new online tool called MinorMonitor which will help you to monitor or track your childrens activity on their facebook easily.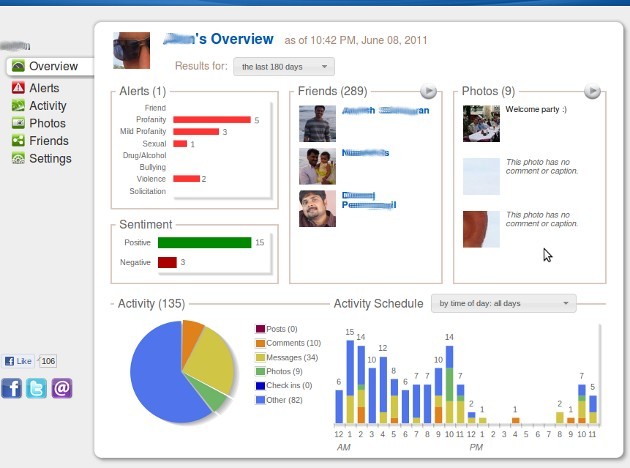 Just create an account, sign in and link your childs facebook account. MinorMonitor will collect the past 180 days data of your childrens activity and give you some very useful statistical conclusions. These would include things like the nature of his friends, sexual nature of posts, hints on drugs and alcohol, violence, nature of photos posted etc.Just one click and you can get a complete picture of his activity in facebook
So with this easy to use online tool you can protect your child from bad company and track your childrens Facebook activity everyday. If you know any kind of a software to monitor or track childrens activity on social networking sites then please do share it with everyone using comments below.