Most of us who work in front of a computer would like to have at least one social networking site like Facebook, Twitter or Google+ open on the side always. But not all of us get to do that during work.
Some time back, OpenDNS had released a list of the most blocked websites around the world with Facebook, Myspace and Youtube topping the charts. Most companies block these popular websites stating productivity reasons or to reduce Internet traffic.
If you belong to this unhappy category, here is a simple tool - UltraSurf which can not only help you to access these "out of reach" sites, but also gives you a safe environment by automatically taking care of deleting history, cookies and related stuff, so you never get caught.
How to use UltraSurf
First download the tool which comes as a zip file. Unzip it and you will get the UltraSurf executable. It doesn't need installation, so you can copy and use the executable from any where you like - most convenient would be your desktop.
On starting UltraSurf, it will first try contacting one of it's servers. Although you can choose one among 3 servers manually via check boxes, it will check and connect to the best one automatically the first time you start it.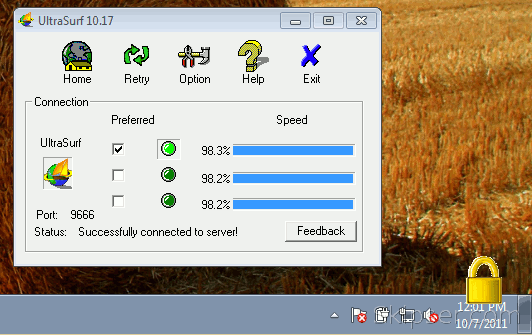 Once connected, it will show a lock icon on the bottom right of the screen and automatically open an Internet Explorer window loading the UltraSurf website page. That's it, you can now use Internet Explorer to browse any website you otherwise don't have access.
If you are trying in your office PC
If you are connecting from your office network, chances are you need to go via a proxy server. If this is the case, click on "Option » Proxy settings" and enter your proxy server address and port. You can save time by clicking on the retry button after entering proxy instead of waiting for UltraSurf re-connect.
Useful Options
UltraSurf options can be accessed by clicking on the "Option" button. Two of the useful options enabled by default are - deleting Internet Explorer cookies and browsing history when UltraSurf is closed.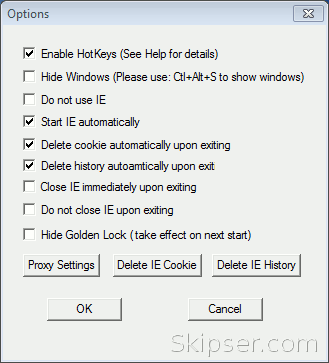 Another useful feature which is not enabled by default is to hide the golden lock icon, so peeping toms don't get suspicious. You can also choose to close all Internet Explorer windows automatically when UltraSurf exits.
Looks good, but I don't use IE as my default Browser.
Ultrasurf also supports Firefox using an add-on which you can download and install from here. Once installed, you will see the UltraSurf icon on the firefox add-on bar (use Ctrl+/ if you don't see the add-on bar)). You can click on the icon to activate or de-active UltraSurf for Firefox any time.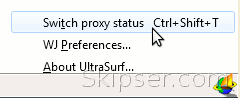 Please note that the UltraSurf program should be running to use the Firefox extension. Just enabling the add-on without running the program won't let you access your favourite web-sites.
Unlike with Internet Explorer, the useful features like clearing history/cookies and closing the browser automatically are not available with Firefox. UltraSurf has also not provided similar add-ons for other browsers like Chrome or Opera yet.
Summary
In short, you can open UltraSurf with Internet Explorer to browse any restricted website easily and securely. When you are done, just close UltraSurf and it will clear all your browsing history including cookies and close down all the Internet Explorer windows, so there is absolutely no trace of your browsing activity left. So go ahead and try it right away or you can watch this introductory video to know more.