What happens if you try to open a web page in chrome without internet connectivity? Chrome will show you its standard "Network Error" page topped with a T-Rex created by Google designer Sebastien Gabriel.
Normally you would close the browser tab or go on with inspecting your network connectivity. But for a change, try pressing the space button. Here's the surprise you will get.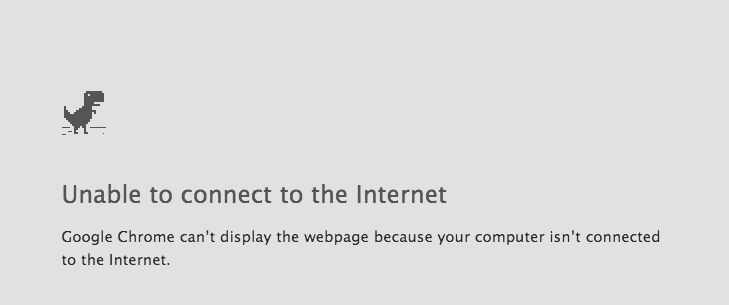 Yes, chrome has hidden small endless running T-Rex game behind the Network Error page. The goal is simple - the T-Rex goes on running and you have to protect him from bumping on to the cacti. You can use the space key to make him jump over and not crash.
The more you go, the higher your sore gets and every 100 points is marked by a high score blip.
If you like the game, you can even play the T-Rex game without going offline. Just use link below to play the ripped version-
http://trex-game.skipser.com
Or if you have an android phone, download this app to keep the T-Rex running-
https://play.google.com/store/apps/details?id=com.skipser.roborunner