Google+ Comments Widget For Wordpress
Here's the best Google+ Comments plugin for wordpress. It is fully customizable with options you won't find in any other plugin -
Width - You can set the widget width to suit your site's dimensions.
Dynamic Width - If you are using a responsive layout, Google+ commenting system has a bug. Suppose the width is set to 500 pixels and your site is loaded in a mobile with a screen size of 300 pixels. Google+ Comments will load with a fixed size of 500 and will overflow the screen. Just set the dynamic width option and the plugin will dynamically calculate display width and use it to load Google+ Comments, so it will fit the display area.
Retain Older Comments - You definitely would not want to loose your older comments when migrating to Google+ comments. This option is set by default so your older comments will show up below the Google+ comments.
On-Demand comments - Set this to true and a "Show Comments" link will be displayed instead of the comments. Click on the link and all comments will become visible inline.
Here's the full options dashboard -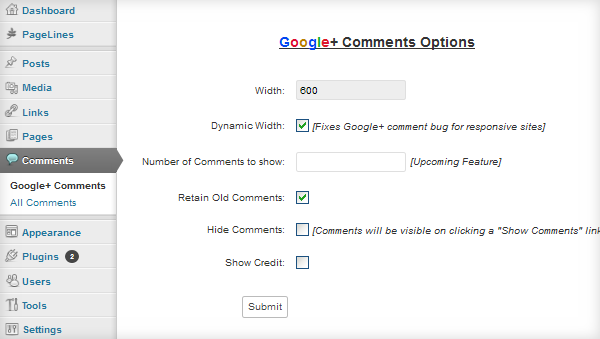 Running in more than 100+ websites.
Installation.
See instructions at Wordpress site.
Contact.
For any issues, please mail to arun@skipser.com