Like Facebook and Twitter, Google+ is also late in releasing apps for tablets. This has left a lot of tablet users disappointed, especially the more popular iPad users.
Although the iPhone version works with iPad, it is not optimized for iPad screen resolution and hence lacks visual appeal and usability.
Here is an alternative app called G-Pad which brings Google+ on iPad.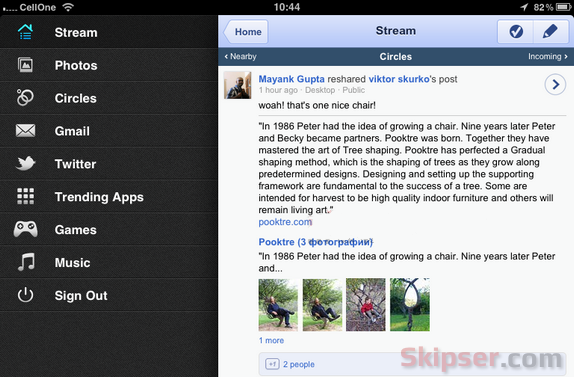 It spots similar looks with the iPad version of twitter having side menus and an updates display screen on the right. Not only can you view your Google+ stream, photos and circles, you can also use it to see Gmail and twitter updates as well. Some features include -
Beautiful Photo Galleries
Twitter Timeline, DM, Mentions & more (via + button)
Free Music
Swipe-based navigation
Interactive Video Player
Games with Friends - Poker, Tiny Zoo, Tiny Chef, Mob Empire & more!
Trending iPad Apps
Quick Links (Stream, Circles, Gmail, Photos, Timeline, Profile & more!)
Portrait & Landscape modes
Pull-Down to Refresh
Using Gmail.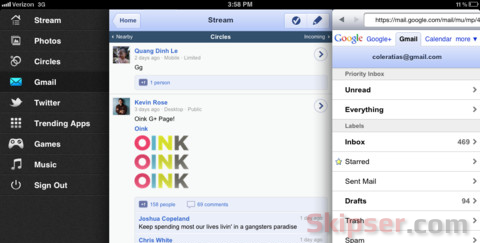 Using Twitter.
Although the app looks pretty good, it doesn't actually use the Google+ API and is only a web version of Google+ bundled into an app. Nevertheless, it works very well and until Google+ officially releases an iPad app, G-Pad can definitely keep you happy.